Carisma Dance & Fitness offers classes in all styles of Dance including RAD Classical, Jazz, Tap, Contemporary, Stretch, Ballroom and Latin as well as a range of Fitness classes including Circuit, Limbering and Personal Training. The best investment in life you could ever make is to invest in yourself and your family. Contact us now to take the first step toward a healthier future and learn how to move your body- whether it be through dance or fitness. We cater for any age and any ability and we promise to help you on your way to achieving your dreams. Group and Private lessons available.
---
class timetables
For our class timetable please download the PDF. Before commencing classes please download and fill out the enrolment form and bring along with you to your first lesson.
To book your first lesson please email or phone to reserve your place in a class.
---
term dates 2014
Adult Classes run all year round- some will break over school holidays (over Christmas & Easter Holidays- there may be some time variations)
children's classes
Term Three 2014- 19th July- 26th Sept
Term Four 2014- 11th Oct- 19th Dec
2014 Events
End of Year Production 2014- Sunday 14th December @ Adelaide Convention Centre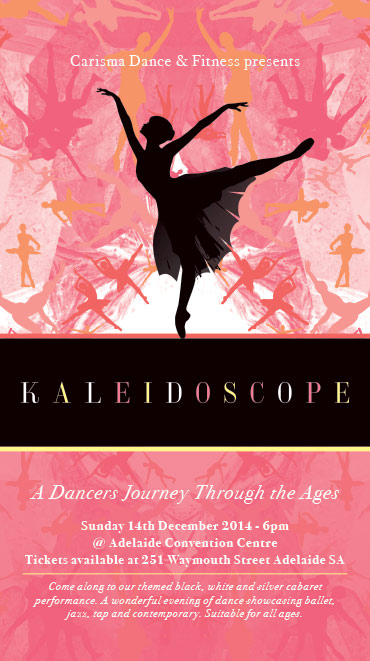 Christmas Party- Thursday 18th December
---
2015 Events
2015 SUMMER SCHOOL
Junior- 13th-17th January
Senior- 12th-17th January
*More Details Soon! Wonderful Guest Teachers including Claire Phipps-Males & Ryan Males and Exciting Classes in All Styles
2015 Term One- 31st Jan- 11th April (11 Saturdays/ 10 weeks)
2015 Term Two- 27th April- 3rd July (9 Saturdays/ 10 weeks)
2015 Demonstration Day- 30th May @ ACArts Theatre
RAD Vocational Exams- From 29th June
2015 Graded Workshop- 13th-17th July
2015 Term Three- 18th July- 25th September
RAD Graded Exams- Approx 10th 11th 12th August
2015 Term Four- 10th October- 18th December
2015 End of Year Production- proposed date- * 12th Dec*